1. Discovery & Prototyping
Considered the most important phase of the project, this iterative process is an opportunity for us to immerse ourselves in your business, get to know and understand your stakeholders and expose any processes that don't make sense for your employees, customers, or business goals. Often times prototyping allows us to:
Discover problems you didn't recognize previously
Identify integration requirements as early as possible
Increase employee engagement & stakeholder alignment
Visualize appropriate solutions that make sense for you
Avoid unnecessary and costly revisions in development
3. Post-Launch Support
We're dedicated to making sure your software continues to provide value from the day it launches! This is why we offer ongoing maintenance and support options to fit your needs:
Technical Support - Our attentive team will ensure timely bug fixes are addressed and feature requests are discussed
Future Planning - We'll work with you to create a roadmap for developing new features and optimizations that can be rolled out in phases
2. Development
Equipped with a strong understanding of your business, software requirements and the interactive prototype from phase 1, our developers get to work turning your software into reality. Our iterative development approach ensures your project progresses quickly while still offering the flexibility to accommodate any needed changes.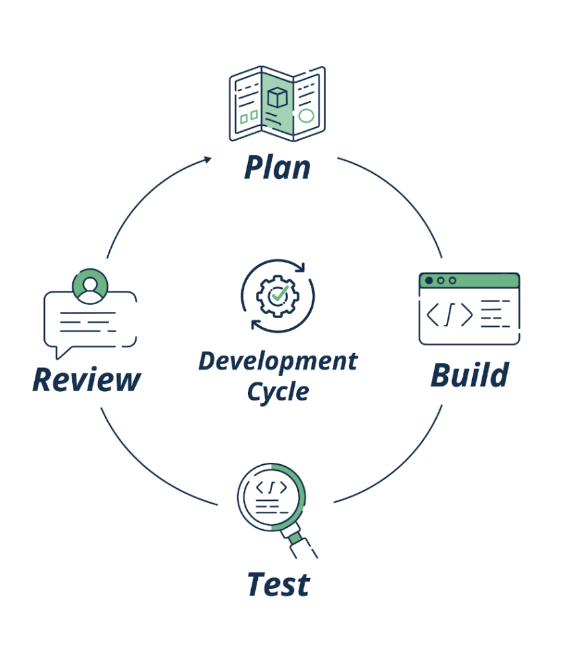 3. Post-Launch Support
We're dedicated to making sure your software continues to provide value from the day it launches! This is why we offer ongoing maintenance and support options to fit your needs:
Technical Support - Our attentive team will ensure timely bug fixes are addressed and feature requests are discussed
Future Planning - We'll work with you to create a roadmap for developing new features and optimizations that can be rolled out in phases